Blog Home
No Carve Pumpkin Decorating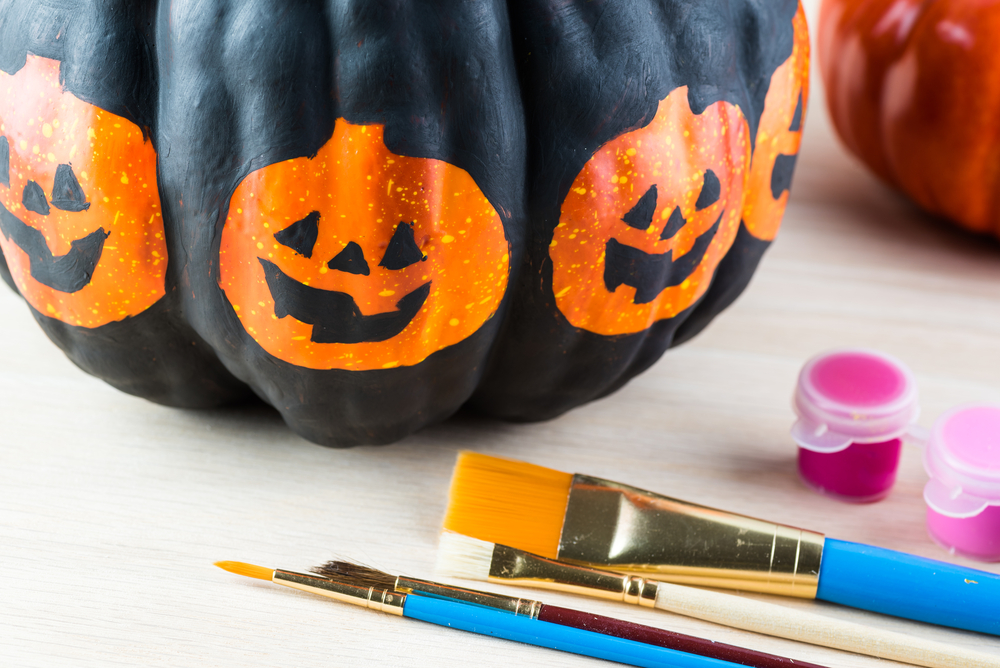 Halloween is coming up and pumpkin decorating season is in full-bloom! Avoid some of the mess and the sharp carving knives this year by using one of these no-carve decorating techniques to decorate your pumpkin instead! The Mansions at Spring Creek Blog is sharing some of our favorite alternative ways to decorate pumpkins without all the mess and danger associated with carving pumpkins — it makes it much easier to clean up your apartment afterward! Head to your favorite store in Garland, TX to pick up everything you will need to decorate your pumpkin this year!
Perfectly Stamped Pumpkins from Good House Keeping
Create and intricate and impossibly perfect pattern on the skin of your pumpkin to give it a stamped look. No, you don't use stamps in this method, but rather flexible patterned stencils, a paint brush, some black acrylic paint (or whatever color you want), some tape, and a water-moistened Q-tip to rub away any stray paint marks. Be sure that you remove the stencils before the paint dries for the best results.
Decoupaged Pumpkin from Country Living
Learn how to transfer a printed image from paper onto the surface of your pumpkin with this super cool technique known as decoupaging. This method is a bit tricky so you might want to do a few test runs first. What you will need: a pumpkin (real or fake), wax paper, mod podge, a printed or copied image, and a foam paint brush.
Creepy Crawly Spider Pumpkin from The Kim Six Fix
This fake spider-infested pumpkin is super easy to make and won't cost much, as you can find everything you need to make it at the dollar store. What you will need: a foam pumpkin, some packages of small fake spiders, and glue. We love this one because it is super easy, but looks awesome!
Sharpie Owl Pumpkins from Lil Blue Boo
Turn your ordinary orange pumpkin into a super cute and artistic-looking owl with just some paint and a Sharpie permanent marker! First you will want to paint your pumpkin completely black or white. Black or white chalkboard paint works best, but if you can find a pumpkin that is already white you can save some time and some paint. Use a silver Sharpie on the black pumpkin and a black Sharpie marker on the white pumpkin to make your designs stand out. If you use faux pumpkins you can keep them forever and use them for many more Halloweens to come!
Mini Donut Pumpkins from Studio DIY!
Transform miniature pumpkins and make them look like tasty frosted donuts with sprinkles! All you will need is some acrylic paint and paintbrushes. Choose one color of paint for the 'donut', another for the frosting, and several for the colored sprinkles. These mini pumpkins are adorable and look just like donuts!
What other cool ways have you discovered to decorate pumpkins without carving them? Share them with us in the comments so we can try them out this year. Thanks for reading our post and have a fantastic Halloween!