Blog Home
The Gift of Hot Cocoa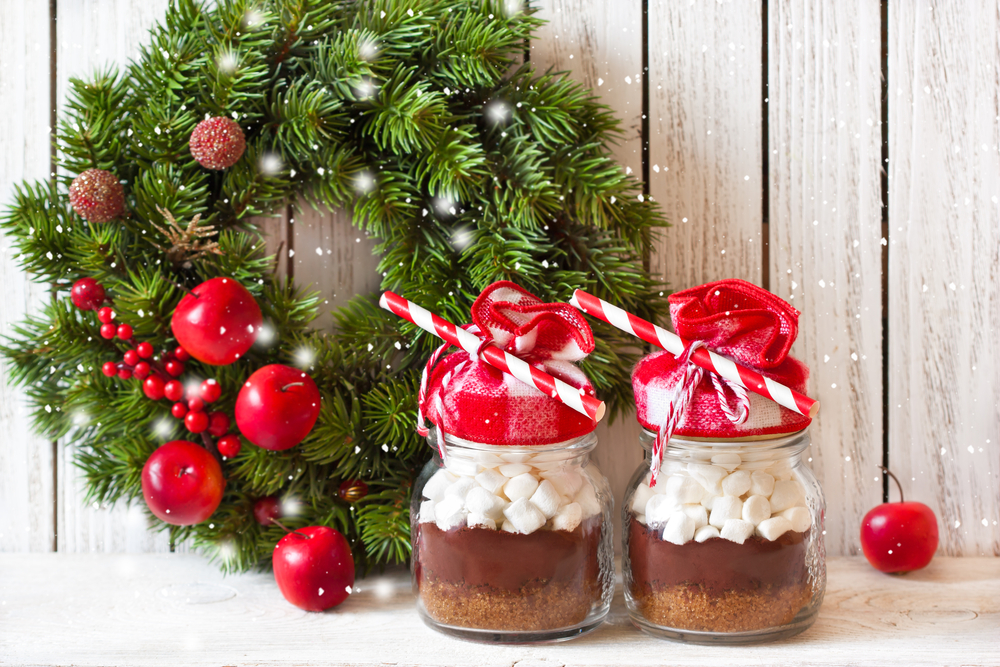 Break out the hot chocolate! The holidays are the perfect time to relax and enjoy a steaming mug of hot cocoa in the comfort of your apartment. Need an easy gift idea? Here are a few DIY hot chocolate gift ideas courtesy of The Mansions at Spring Creek Blog.
This cute crafty idea comes from Glorious Treats. It endearingly refers to hot cocoa as "snowman soup." Complete with a printable snowman soup poem, this gift is definitely a holiday winner. Here's everything you will need: hot chocolate packets, mini marshmallows, chocolate Hershey's kisses, candy canes, clear treat bags, cardstock paper, printable Snowman Soup poem, stapler, and tape.
Fill a large clear jar with all the ingredients you will need to make one of these five hot chocolate recipes from Afternoon Baking with Grandma. Each would make for a perfect gift for neighbors, co-workers, or casual acquaintances. Choose from peppermint hot cocoa, birthday cake white hot chocolate, peanut butter hot chocolate, lavender white hot chocolate, or toffee hot chocolate recipes.
DIY Rudolph Hot Cocoa Holiday Gifts
Presentation is important when it comes to this gift idea from Mommy Musings. To make these you'll need piping bags, hot chocolate packets, mini chocolate chips, mini marshmallows, red pom pom balls, wiggle eyes, tan or brown pipe cleaners, ribbon, and gift tags. You'll also need these tools to assemble the gifts: glue, scissors, a stapler, and a single hole punch.
Dark Chocolate Hot Chocolate Spoons
These hot chocolate spoons are a fun addition to a hot chocolate gift. This idea comes from Domestically Blissful. To make these you'll need wooden, plastic or silver spoons. You'll first need to melt the chocolate and dip the spoon into the chocolate. Lay out the spoon and top it with any toppings of your choice. That could include sprinkles, crushed candy canes, nuts, mini marshmallow bits, chopped up candy bars, or anything else you think your friends might like.
Would you enjoy receiving hot chocolate as a gift? Share your thoughts and any unique hot cocoa recipes with us in the comments. Thanks for reading. Enjoy the holidays here in Garland, TX, or wherever you may be!